Dan Gainor's Hypocritical Freak-Out
Topic: Media Research Center
The Media Research Center's Dan Gainor freaks out over reports that Sarah Palin's daughter Willow used homophobic slurs on her Facebook account. Not that Willow used the slurs -- that would run counter to the MRC's anti-gay agenda -- but that they were reported in the first place. Gainor writes on his Twitter account: "Sleazy left finds new Palin to attack. This one's only 16. Scumbags. HuffPo's disgusting."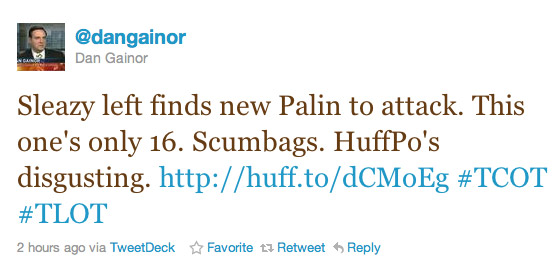 Gainor links to a Huffington Post account of the incident, which was first reported by TMZ. But HuffPo doesn't "attack" Palin; it merely reports what had surfaced about her Facebook posts. It seems that telling the truth about conservatives (or their children) equals "attacking" them, as far as Palin is concerned.
Needless to say, Gainor is being hypocritical on the subject of the foibles of politicians' children. Back in 2001, the MRC was offended that the media didn't give blanket coverage to a speeding ticket received by Al Gores then-17-year-old son:
The network fascination with the initial investigation of Jenna Bush for using another person's ID to buy an alcoholic drink at an Austin restaurant Tuesday night contrasts with how the networks last summer ignored the speeding and reckless driving citations issued to Albert Gore III for going 97 mph in a 55 mph zone. While Gore was 17 at the time of his offense on an August weekend before the Democratic convention, and so still a minor, and Bush's daughters are now 19, the media-applied standard has been that offspring are only off-limits until they make "the police blotter."
As we noted at the time, the difference between Jenna Bush and Al Gore III was that Bush was over 18, got popped for the same offense twice within a month, and faced the threat of possible jail time because of a get-tough law her father signed into law as Texas governor, due to an alleged third alcohol-related offense.
The MRC expressed no concern over attacking a minor in the Gore case as Gainor does regarding Willow Palin.
Gainor also ignores the fact that Facebook is at least a quasi-public forum, and it's not that much of a violation of privacy to reprint her words, which no one has denied are hers.
While one should always tread carefully when dragging the children of politicians into the spotlight, it's hypocritical for Gainor to complain about the treatment of Willow Palin when his employer sought to do the exact same thing to Al Gore III.
Posted by Terry K. at 11:29 AM EST