It's Anti-Gay Week At the MRC
Topic: Media Research Center
It's apparently Anti-Gay Week at the Media Research Center. It started off by complaining that that a magazine honored a gay teen -- being nice to gays is irrefutable evidence "liberal bias," as far as the MRC is concerned -- and it's only ratcheted upward.
A Nov. 9 NewsBusters post by Matt Hadro was perturbed that CNN show graphic footage of gays attending church and featured "a Christian pastor who accepts gays and lesbians in his congregation and disputes historic, biblical teaching on the immorality of homosexuality." Hadro seemed even more disgusted that "CNN also featured clips of congregants praising the church's affirming stance on gay and lesbian relationships." Apparently, such graphic footage of non-homosexuals praying to a Christian God is utterly offensive to Hadro.
This, presumably, is what the MRC's Tim Graham was referring to when he tweeted: "CNN: We're the objective, nonpartisan network. (Except for offering hours and hours of propaganda time to the GeLBoT cause)."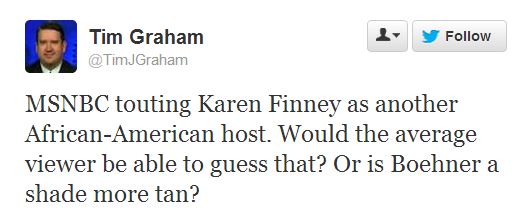 "GeLBoT"? What does that even mean?
Then, in a Nov. 10 MRC Culture & Media Center article, Erin Brown was outraged a lack of outrage, asencapsulated in her headline, "Media Apathetic About Glee's Gay Kiss":
The November 9 episode of Glee titled "Never Been Kissed" was quite the show stopper – unless you're the media. The unexpected homosexual kiss between male high school students was nothing short of jaw-dropping, and yet the liberal media were "ho hum" on the controversy.

Glee's stereotypical jock character Karofsky, who has bullied openly gay character Kurt all season, planted a kiss on Kurt in last night's episode. Kurt, played by actor Chris Colfer has been heralded as nothing short of a superhero for his sensitive portrayal of the difficult high school experience of gay high school students.

The "groundbreaking" musical comedy-drama has never shied away from debate, as it has aired episodes featuring teen pregnancy, oral sex, and high school students discovering their sexual identity, among other hot topics. But it's curious that the media would simply report the gay kiss as merely "the other kiss that made news was the same sex smooch," wrote CBS.
Teen pregnancy is apparently not a problem for Brown since there are no gays involved.

Posted by Terry K. at 2:06 AM EST