Newsmax Drools Over Palin
Topic: Newsmax
Newsmax has been touting Sarah Palin's appearance in an Obama-bashing video series for a couple weeks now, and now that the appointed day is almost here, the hype machine has been cranked up.
An Oct. 7 article touted Palin's appearance at Newsmax's offices for the taping of her segment, with more than a bit of sycophancy on both ends:
The charismatic Palin toured the Newsmax headquarters, taking time to shake hands and visit with Newsmax employees. Staffers were impressed that she wanted to know the name of each person she greeted. She also acknowledged personal touches, commenting, "Look at all those kids," as she surveyed the collection of family photos on one worker's desk.

Palin also appreciated Newsmax staffers' shout-outs of encouragement for one of her own kids: Bristol, in her quest to the win the "Dancing with the Stars" competition on ABC-TV. Palin, who calls her daughter "Bristol the Pistol," said the contest is providing a "sweet diversion."

Newsmax CEO Christopher Ruddy meets with former Alaska Gov. Sarah Palin in his office. Stopping for a TV interview outside the Newsmax building, Palin said, "It's great to be here at Newsmax, I'm a big fan of this publication. But Florida — beautiful, wonderful, politics so interesting in this part of the country. You know, it's never boring to tune in and find out what's going on in Florida."

It's no secret that Palin is an avid Newsmax reader. In November, she told Fox News host Sean Hannity that Newsmax is one of her primary sources for online news. On Wednesday, she again praised Newsmax and said she has the site bookmarked as one of her favorites.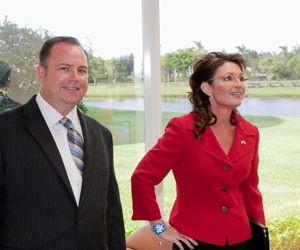 This generated a similarly sycophantic
article
from U.S. & World Report's Paul Bedard, who portrayed the visit as "the latest and clearest example of her plans" to run for president in 2012.
Newsmax followed up with an even more sycophantic teaser of what Palin said in her webcast (which airs later today):
Former Alaska Gov. Sarah Palin, in an exclusive interview airing at 1 p.m. Tuesday on Newsmax.com, discusses her staunch opposition to President Barack Obama's healthcare plans and socialistic policies, and reveals new details about a possible presidential run in 2012.

She also warns that allowing Iran to acquire nuclear weapons may "lead to Armageddon" — a scenario that could lead to the deaths of millions in a Third World War.

Palin's comments came as Newsmax launched a special series of online webcasts entitled "Make America Great Again" — a title taken from Ronald Reagan's campaign slogan when he was elected president in 1980.

[...]

Though the Newsmax interview has yet to be released, some of Palin's revelations during the discussion already have made major headlines in the national media.

U.S. News & World Report reported that Palin's visit to Newsmax last week for the show's taping was the clearest sign yet that she is seriously contemplating a presidential bid for 2012. Newsmax is the most-read website for conservatives in the nation, U.S. News noted.
Sycophancy, ho! The actual interview, we suspect, couldn't possibly be as exciting as Newsmax has made it, regardless of its desire to make money off Palin's name.
UPDATE: We've watched Palin's webcast, and it pretty closely echoes attacks on Obama by her fellow right-wingers. Our account is posted at Media Matters.
Posted by Terry K. at 12:41 AM EDT
Updated: Tuesday, October 12, 2010 10:23 PM EDT