Ad on WND Calls for 'Civil War'
Topic: WorldNetDaily
This interesting ad popped up on WorldNetDaily (via Google ads) over the weekend: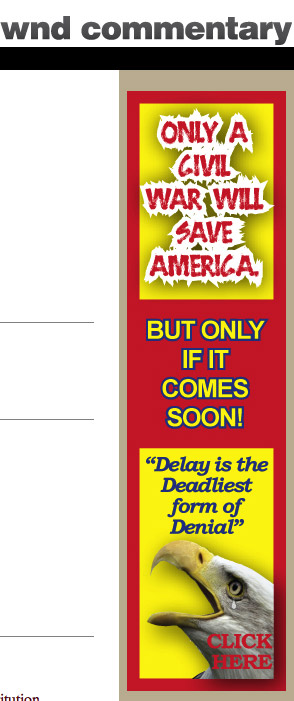 That's right -- it's claiming that "Only A Civil War Will Save America -- But Only If It Comes Soon!"
The ad links to a website promoting a book called "It's Over" by R. Keith Martin, aka Ron Martin. Martin reprints the book's introduction, which includes this:
America is terminal and its demise is not the result of Al Gore's global warming or Michael Moore's phantom conspiracies. Neither is it Iran's nuke(s), Putin's reconstituted USSR or China rising. It's an "in house job" by people whose names you have come to know, but really don't know at all. For the past 100 years or so they have been called liberals, progressives, statists, communists, Nazis, fascists, socialists, leftists and, most recently, Democrats. Regardless of how Webster defines each of these belief systems they all share the same dream: dismantling our 234 year old democratic republic and replacing it with a serfdom ruled by oligarchic elitists. For simplicity, I will combine all nine of these evils into one and simply call it the "Darkside", as in Star Wars. Unlike the movie, there is no Darth Vader coming after you, and no Luke Skywalker to save you, and sadly, the good guys don't win in the end.

[...]

I am a Yankee who moved to the segregated South in 1958. I saw the court-ordered end of segregation only to see it re-imposed later, not by the process of law, but by the very people who wanted it to end. I argue that the re-introduction of segregation by the black elite is really a control technique to keep the elite in perpetual power, which it has done. My real ultimate destination in bringing you the "Black Imbroglio" is Obama. Were it not for the inculcated guilt of whites, absorbed from a society dripping with it, and the black elitists institutionalizing black dependency, Obama would never have progressed beyond community organizer.

But, Obama did progress, and he is President. If he was just another black liberal pushing welfare programs or other liberal causes like all black politicians I would not have spent the last year cloistered with my computer. Obama is dangerous - crash and burn dangerous. The deeper and deeper I dug into the Obama machine, and the Darkside, the greater I realized just how much trouble America is in. We have simply never faced such an array of problems, or had to depend for our rescue from the precipice, on someone that is pulling the lifeline away from us as we reach for it. What is even more amazing is that is seems that nobody, or at least very few, really believe that we are very near the point of collapse. What Obama is doing routinely on a daily basis, no other President would have even attempted. Bill Clinton came closest to this chronic criminality with the FBI files scandal, White House Travel Office, Vince Foster, and numerous others, but nothing compared to what Obama and the Darkside are doing every day in every part of his administration.
Martin's book has chapter titles such as "Homosexuals," "The Second Reconstruction," "White Racism Is Rare, Black Racism Is Raging," "The Madhi Cometh," "Body Count Thus Far," "The Final Solution," "The Coming Demicide," and, yes, "Why Obama Must Murder You."
There appears to be little about Martin on the Internet; the Southern Poverty Law Center notes that he distributed a flyer that discussed subjects such as "Race-Based Tyranny" and "Our Black Imbroglio."
The SPLC called such rhetoric "inspired" by the racially charged attacks on Obama by Fox News; we would add that WND arguably had a hand in shaping Martin's Obama-hate worldview.
Posted by Terry K. at 1:44 AM EDT