Gainor's False Equivocation on Media's Political Donations
Topic: Media Research Center
The MRC's Dan Gainor writes in an Aug. 17 Twitter post regarding News Corp.'s recent $1 million donation to the Republican Governors Association: "Left up in arms about News Corp contributions. Open Secrets: Media contributions 3-1 Dem over Repub."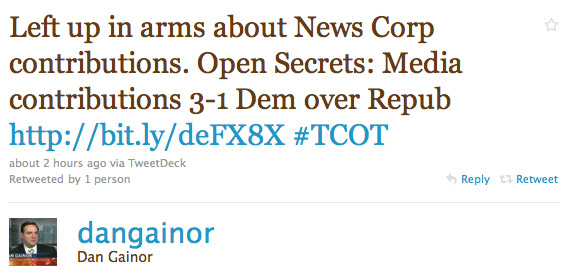 But Gainor doesn't really support his point. As evidence to support his claim, Gainor links to a OpenSecrets.org page titled "Books, Magazines & Newspapers: Top Contributors to Federal Candidates and Parties." But most of the entries on that page don't run news operations -- they publish magazines and books.
Of the organizations of the list that own news operations -- News Corp., Advance Publications, Newsmax Media, Ogden Newspapers, Greenspun Media Group, Landmark Media Enterprises, Harris Publications and Meredith Corp. -- only Meredith matches News Corp. for the amount of donations made by the company itself; all the other media firms' donations are by employees, not the company.
Further, News Corp. as an entity far outstripsthe political donations of others; it's listed as making $270,000 in donations. Meredith, by contrast, made only $23,550 in donations.
Oh, and Gainor offers no evidence of a news organization making a similar corporate cash contribution to a liberal political cause as News Corp. made to the RGA. Is that because there isn't such a thing?
Posted by Terry K. at 1:15 PM EDT