O'Reilly Teams Up With Newsmax for Another Webcast
Topic: Newsmax
On July 21, Newsmax -- following up on its previous partnership with Bill O'Reilly, in which O'Reilly appeared in a Newsmax webcast designed to sell its financial products -- issued an email announcing that O'Reilly will star in a new upcoming webcast.

Described as "A Newsmax Undercover Report," the email states that "This Internet Broadcast Will Feature Bill O'Reilly and What He Is Doing to Prepare" for what Newsmax calls "the Largest Tax Hike in America's History," the expiration of the Bush tax cuts. In the email, Newsmax financial publisher Aaron DeHoog follows Newsmax tradition by engaging in anti-Obama fearmongering (underline in original):
Dear Newsmax Reader,

I'll cut straight to the chase.

You are about to be directly hit with a full assault from the IRS.

And you should heed this warning and prepare yourself accordingly.

To pay down our massive federal deficit, President Obama is going to come calling for what he believes is your portion of our $13.2 trillion tab.

In fact, as we stand now in his eyes, you are responsible for more than $119,000 (that's exactly how much each citizen owes, according to my sources).

So you are going to be slapped with new Medicare taxes, cap and trade, and a value-added tax.

And President Obama is just getting started.

Once he intentionally lets the Bush tax cuts expire, tens of millions of Americans will feel a direct impact to their retirement savings.

And that's just on the federal level.
In fact, Obama's fiscal year 2011 budget calls for keeping the Bush tax cuts for all except individuals making more than $200,000 a year and couples making $250,000.

DeHoog goes on to write, "You need sound advice in these days of extortion from over-taxation." That sound advice will be coming in part from O'Reilly, who will tell how he is "preparing." This is the same O'Reilly, by the way, who has repeatedly pointed out that he's "not an economist."

What this webcast will inevitably be is yet another infomercial for a Newsmax financial product, even though it can be expected that O'Reilly, as he did last time, will claim he's not there to endorse said financial product. Of course, O'Reilly's presence can logically be seen as an implicit endorsement, whether he wants to admit it or not.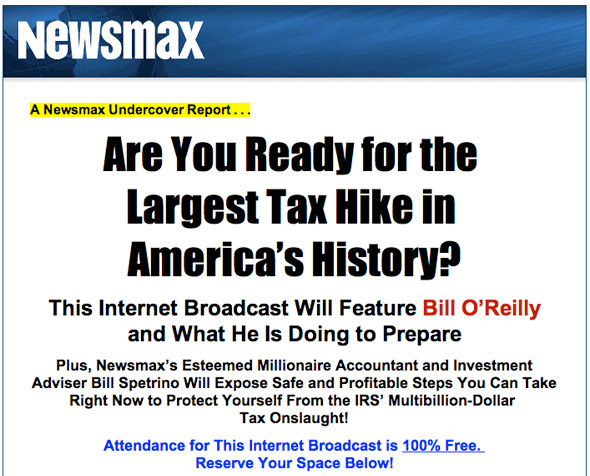 Posted by Terry K. at 12:19 AM EDT