AIM's Kincaid Still Fantasizing About Gays in the Military
Topic: Accuracy in Media
When we read the Onion article headlined "Repeal Of 'Don't Ask, Don't Tell' Paves Way For Gay Sex Right On Battlefield, Opponents Fantasize," we immediately thought of Accuracy in Media's Cliff Kincaid, who regularly inveighs against gays in the military amid shots of really hot guys -- presumably what Kincaid envisisions when thinks about gays in the military.
Kincaid's July 19 AIM column is more of the same, touching on various anti-gay subjects he has made over the past several months -- gays in the military, gay marriage, "gay blood" -- with some updated right-wing talking points.
Kincaid also announces that he is "honored to be invited to be a part of" an upcoming "Truth Academy" being held by the rabidly anti-gay Americans for Truth about Homosexuality. He oes on to praise AFTAH leader Peter LaBarbera as "one of those brave few taking a leadership role in the effort to preserve traditional American social and religious values." Kincaid writes that LaBarbera has been "[f]ighting off the predictable smears of 'hater' and 'homophobe' from the gay-run Media Matters group and the Southern Poverty Law Center," failing to mention the fact that such statements are "predictable" because they are true.
Kincaid completed his point with photo promoting his column on the AIM front page, apparently ripped directly from his subconscious: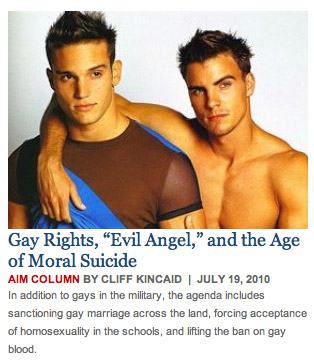 It's as if Kincaid is channeling the critic in the Onion article who said, "If this is repealed, what's to stop all-night sex romps from breaking out while U.S. servicemen are hiding in a bunker, or crawling around an irrigation ditch bathed only by the light of the moon, or, say, the dozens of other situations I've already thought through in elaborate detail?"
Posted by Terry K. at 7:27 AM EDT