Newsmax Email Makes False Claim About Obama
Topic: Newsmax
A May 6 email to Newsmax's mailing list contains the following subject line: "Insider: Obama May Stop All Oil-Drilling, Wants Lithium."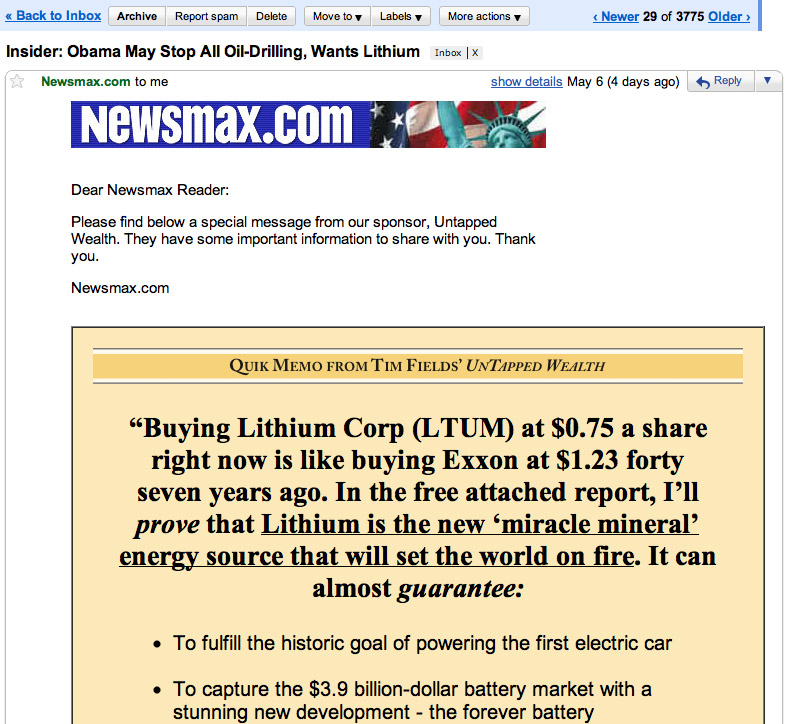 But the email itself -- a third-party promotion hyping the stock of a company involved with the "miracle mineral" lithium -- doesn't make that claim. Heck, it doesn't even mention Obama at all. And the only mention of oil is in a claim that lithium will "get us off foreign oil sold to us by people who hate us."
So who's responsible for making this utterly false and completely unsubstantiated claim about Obama? Given that the email itself doesn't make this claim, suspicion must fall on Newsmax. It's previously
harnessed Obama-bashing to make a buck
through shilling investment schemes, so why wouldn't it toss out a casual, libelous smear to plug someone's stock?
Posted by Terry K. at 10:58 PM EDT