Another Anti-Gay Video By Molotov Mitchell
Topic: WorldNetDaily
Molotov Mitchell is still in the anti-gay business.
His new WorldNetDaily video praises Lauren Ashley, the beauty queen who's following in Carrie Prejean's footsteps and criticizing same-sex marriage. On-screen text: "Another hot homophobe."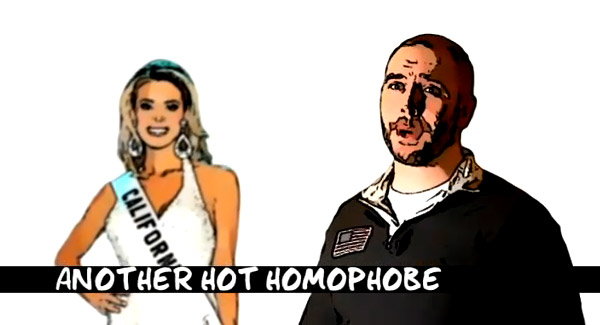 Molotov goes on to reference "Uganda's democratic right to abolish homosexuality" and says he's gotten "a lot of support" from "thoughtful Christians" for his
position supporting it
. He goes on to say, "If liberals pass laws based on their religion, so should we." This is accompanied by a screenshot of various liberals – Obama, Gore, Pelosi – with signs that read "cap and trade," "socialized healthcare" and "gay rights." He then says:
Don't buy the leftist hype. I wouldn't flip some magic switch and kill all the gays. Neither would Ugandan Christians or Lauren Ashley. But if they've got the votes, free people should have the right to ban activities they don't like -- drug abuse, suicide or homosexuality.
As we've detailed, the Ugandan law as currently written would permit the death penalty for mere homosexual behavior, which he conveniently fails to mention. That is Molotov's "magic switch" that would kill at least some homosexuals. Given that Mitchell previously highlighted Ashley's statement that "the Bible prescribes the death penalty for homosexuals," he's being a tad disingenuous when he says he doesn't want to "kill all the gays." That's exactly what he says his religion is telling him to do.
Mitchell's focus on how a majority of citizens "have the right to ban activities they don't like" is strange -- demonstrating that he would like his "magic switch" to spread. Somehow, we suspect that ol' Molotov would not be so accepting of a the will of a "free people" who voted to ban something he liked -- say, Christianity. We'd be hearing a bit more about the tyranny of the majority.
(And how, exactly, do you outlaw suicide? It's not like you can prosecute anyone who commits it, being that they would be dead and all. Unless Molotov wants to prosecute the dead...)

We also noticed that WND's videos now begin with a short commercial form an outside advertiser. When we watched it, the advertiser was Toyota, a company under the gun over certain issues with its cars. Does it also want to be linked with Molotov's hateful anti-gay rhetoric, too?
Posted by Terry K. at 10:09 PM EST