Meanwhile ...
Topic: Western Journalism Center
Think Progress caught up with the Western Journalism Center's Caleb Heimlich at CPAC, where he was doing the bidding of his boss, Floyd Brown, by promoting Brown's campaign to impeach President Obama. Heimlich couldn't come up with any imeachable offenses specifically identified in the Constitution, instead essentially admitting that the effort is rooted in little more than policy differences.
We've already detailed the lies and distortions in Brown's impeachment drive.
Meanwhile, the WJC, far from doing anything involving actual journalism, is mostly content to rehash attacks on the media from other right-wing websites, combined with the occasional smear job, like one asserting that Obama is "stupid and lazy."
And lest anyone think this is about anything other than the aggrandizement of its leader, a graphic onthe WJC front page plugs Floyd Brown's availability for speaking gigs: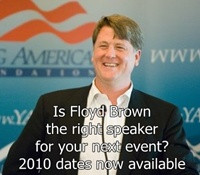 If you're curious, Brown's fee ranges between $1,000 and $5,000 depending on the location of the speech, and he "requires reimbursement for transportation and lodging."
Posted by Terry K. at 11:41 AM EST