WND Hiding Full Account of Farah-Breitbart Incident
Topic: WorldNetDaily
As we suspected would happen, WorldNetDaily is not eager to rell readers the full truth about the Tea Party Convention confrontation between WND editor Joseph Farah and right-wing blogger Andrew Breitbart regarding the merit and political use of birtherism.
Even though WND reporter Chelsea Schilling was present for the confrontation, she wrote up no story; instead, WND links to a CBS News blogger's partial summary of David Weigel's Washington Independent account of the incident: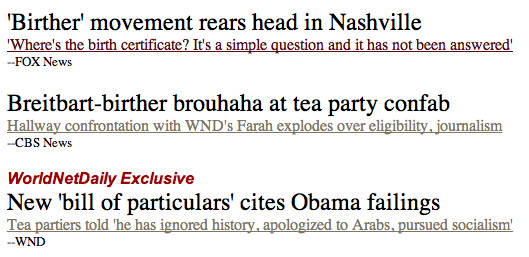 Why didn't WND link directly to Weigel's account, even though it's the most complete version available? Perhaps because Farah hates Weigel and the Independent for reporting on the birther stuff -- i.e. Orly Taitz's shoddy lawyering -- that
WND
won't
. Indeed, during his rant, Farah denounced the Independent as a "socialist newspaper" (even though it has no print version).
It may also be because the CBS summary leaves out the fact that Schilling was present for the entire incident, and Farah and WND are likely hoping that its readers won't click through to read about the fullness of Farah's pettiness -- or wonder why Schilling isn't writing her own version of events. (Unless she's getting paid only to write only fluffy, positive articles on the proceedings instead of doing actual reporting.)
And even if Schilling somehow does end up writing something about this, it's a sure bet she won't mention the fact that Breitbart, despite taking the anti-birther side in his argument with Farah, has previously used his websites to promote birtherism.
UPDATE: WND also offers more of the stenography that made them one of the few outlets allowed to cover the convention with a fawning (if unbylined) account of Palin's speech.
Posted by Terry K. at 3:48 PM EST
Updated: Sunday, February 7, 2010 7:29 PM EST