Kathy Shaidle, Gay-Basher
Topic: Horowitz
Kathy Shaidle not only is a blogger for NewsReal, where she remains unable to comprehend the simple fact that George Soros does not fund Media Matters, she also writes a weekly column summarizing talk radio for WorldNetDaily.
WND seems to be an appropriate home for her since they both share an interest in gay-bashing.
Her personal Five Feet of Fury blog currently hosts an ad for a subsidy-published book written by a "nuclear submarine force engineer" who insists that homosexuality is a "sexual dysfunction." (And really, who better to analyze the issue of sexuality than an engineer?)
Actually, that's a relatively minor offense -- blogging doesn't pay so any ad revenue is generally tolerated, right-wingers like Shaidle (and, presumably, her readers) eat these books up, and an obsession with homosexuality seems right up her alley.
Here's a post outlining her response to a story that a claim of a playwright ("who still hasn't died of AIDS for some reason") that Abraham Lincoln was gay was made up to "raise awareness": "Dear gays: this is why people hate you."

And here's another one tastefully responding to a British education official named Ed Balls who, after police were called on an 11-year-old for calling a classmate "gay," said that "Even casual use of homophobic language in schools can create an atmosphere that isolates young people and can be the forerunner of more serious forms of bullying."
Shaidle's bon mot: "Not like sending four cops to some kid's house, you dumb fag!" And her headline: "Bullied as a child for obvious reasons, Mr. Balls takes it out on little kids."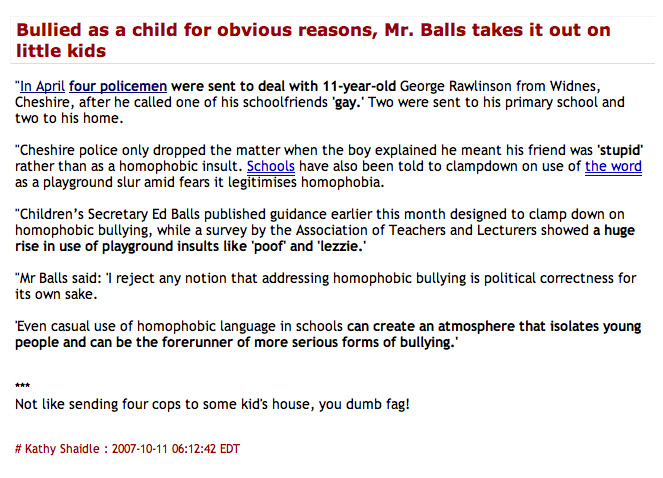 So, was Shaidle bullied as a child? Or was she the bullier? We somehow suspect the latter.
WND obviously has no problem with such gay-bashing. But what about the Horowitz empire, which operates NewsReal? After all, managing editor David Swindle insists that commenters refrain from "Abusive, Ad Hominem, Overly Mean-Spirited" comments and "Hyperbolic Nazi References" -- though, as we've noted, that doesn't seem to apply to NewsReal's bloggers.
We predict Shaidle will get to keep her NewsReal job, as long as she keeps her overt homophobia confined to her personal blog (covert homophobia, we suspect, is mostly tolerated). After all, she does serve as NewsReal's reliable (if not coherent or factually accurate) basher of our employer, and that seems to be good enough for the Horowitz folks.
Posted by Terry K. at 2:16 AM EST