Molotov Misleads on Constitutional Issue
Topic: WorldNetDaily
Molotov Mitchell is so desperate to attack Barack Obama that he's digging up the emoluments clause.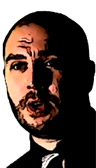 In his Nov. 11 WorldNetDaily video, Mitchell claims that Obama broke the law "willfully and with malice aforethought" by appointing Hillary Clinton as secretary of state. How so? As Mitchell's "constitutional professor" details, the Constitution's emolument clause was put in play, which states that "[n]o Senator or Representative shall, during the Time for which he was elected, be appointed to any civil Office under the Authority of the United States, which shall have been created, or the Emoluments whereof shall have been encreased during such time." The "professor" continues:
In other words, if a senator were to vote for a raise for the office of secreatary of state, he would no longer be eligible to serve in that office. And since then-Senator Clinton did indeed vote for such a raise in January 2008, Obama defied the Constitution by appointing her to be secretary of state.
In fact, Clinton did not vote for the raise -- it was done by executive order of President Bush. Still, the Constitution does not distinguish whether a lawmaker was involved in the raise or not. Which is where the Saxbe fix -- in which Congress rolls back the salary increase of the appointed position to the level it was before the lawmaker took office for his/her current term -- comes in. And indeed, that's what Congress did to the secretary of state's salary before Clinton assumed the office.
There is debate on whether the Saxbe fix properly addresses the constitutional issue involved -- and it can be argued that the founders' intent was to discourage a lawmaker from creating a job he can get himself appointed to at the end of his term, not to bar all lawmakers from appointed office -- but neither Mitchell nor his "constitutional professor" mention the Saxbe fix.
Nevertheless, Mitchell rants that Obama is "willfullly defying our Constitution in an attempt to create something new." Mitchell then snarks that members of the armed forces take an oath to defend the Constitution from enemies foreign and domestic, and "since Obama's Kenyan, Indonesian and American, I guess he qualifies as both."
Posted by Terry K. at 9:40 AM EST