WJC's Misleading, Tasteless Kennedy-Bashing
Topic: Western Journalism Center
An Aug. 28 Western Journalism Center video, called "The Real Ted Kennedy," begins with a minute of snippets of various media tributes. These are followed by this image: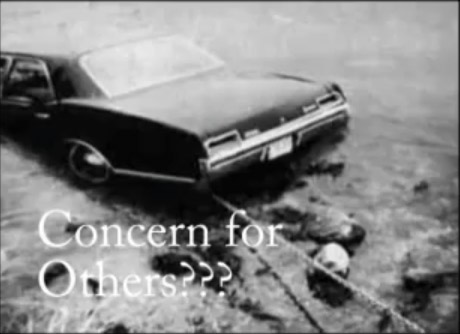 Which is immediately followed by this tasteless photo: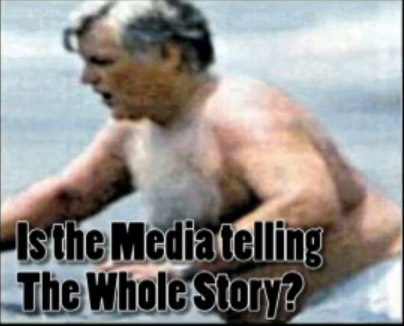 In this video, the WJC is suggesting that Chappaquiddick was never mentioned during coverage of Kennedy's death, but offers no evidence to back up its suggestion -- perhaps because it knows the claim is utterly false, as anyone who watched even part of the coverage knows.
It's worth noting that the WJC is using the YouTube account of Expose Obama, which is operated by Floyd Brown, the right-wing operative who also runs the WJC. This comingling of resources (is that legal?) tells us what we suspected would happen: that the WJC under Brown would be little more than a partisan slash-and-burn operation -- not that it wasn't that when Joseph Farah ran the WJC.
UPDATE: The WJC followed up in the same hateful vein with an email sent out on WorldNetDaily's mailing list and signed by Floyd Brown. In it, Brown asserts that "Ted Kennedy probably did more than any political figure of his generation to weaken and corrupt America," "supported every so-called 'gay-rights' bill that perversity could generate," and blaimed the defeat of Robert Bork for the Supreme Court on "Kennedy, People for the American Way, the National Organization for Women, and a gang of crazies." Brown sarcastically closes: "Thanks, Teddy, for the 47 great years. We'll do everything possible to see that you won't have one more victory this fall. "
Posted by Terry K. at 12:07 PM EDT
Updated: Wednesday, September 2, 2009 11:52 PM EDT