Molotov's Obama-Hating Tea Party Rant
Topic: WorldNetDaily
Molotov Mitchell has posted the video of his speech at the sparsely attended anti-Obama tea party July 4 in Charlottesville, Va., and it's not pretty -- Mitchell lets his Obama-hate shine through in a way that not even his WorldNetDaily videos capture.
He starts his rant by telling the crowd, "I know how you feel -- like the underground." He continues:
You spend your 9-to-5 taunted by the Obama bobblehead on the new guy's desk or that stupid "Hope" poster he just put up by the copy machine. ... You huddle around your radios like refugees, like British families during the Nazi bombing raids. You coming to hope as dispensed by Rush or Sean or Mark -- or Michael Savage if you're really crazy, like me.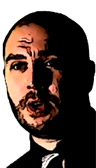 Mitchell then engages in his usual denigrating of people he doesn't agree with: "A handful of pencil-necked, metrosexual socialists in Washington can't possibly defeat a nation of red-blooded, God-fearing patriots." He then endorsed a military coup against Obama:
The spirit of Thomas Jefferson is alive and well in Honduras -- especially in Honduras, where their Marxist just tried to tamper with their constitution, andguess what happened? The Honduran military took that soclialist dictator wannabe to the border and said, "Hasta la vista, baby. Better luck in Costa Rica." Sounds nice, doesn't it? Sounds nice to me. Time will tell.
Next, he embraced the birther conspiracy:
I have actually personally interviewed most of the experts involved. I've spent time with Dr. Ron Polarik, who proved conclusively that that image you see on the Web that they claim is his birth certificate is actually fraudulent. This now -- listen, I'm not hearing this secondhand. I interviewed the expert. I interviewed Phil Berg -- we were actully one of the first groups to actually film him and explain the situation at the outset, so I know a little bit of what I'm talking about here. Let me give you a few facts. I think this is worth noting.

Barack Obama's grandmother -- Kenyan grandmother says that he was born in Kenya. His elementary school records say that he was an Indonesian at a time when they did not allow dual citizenship. He has sealed every record that could indicate his national origin -- his school records, his medical records. He traveled in and out of Pakistan when American passports were not allowed -- how did he do that? How about this -- I've got a new question that I haven't heard asked yet. Why haven't they built a monument to commemorate where he was born? Because no one can prove where he was born.

Now, I know some of you are thinking, this is cracy, this is conpsiracy theory. You're wrong. This is a silver bullet. This is jiujitsu. This is the Achilles' heel of the Democratic Party, who is complicit in this. Now, I'm not trying to give you false hope here -- I'm telling you, if we push this thing, we will win. If we can prove Barack Obama is ineligible to serve, everything his pen has touched will be declared null and void -- everything.
In fact, he's not imparting facts -- as we noted the last time he did this, most of the claims Mitchell makes have been discredited.
Mitchell then lets the Obama-hate loose:
But for now, we have a counterfeit king living in the White House. And I use the word "king" advisedly. Because when you have our leader who's wining and dining Michelle-my-belle in Gay Paree, when you have him taking her to Broadway, when you have Hannah Montana being paid to come into the White House to entertain his kids, when he's flying in pizza chefs for tens of thousands of dollars for one pizza while you and me have double-digit unemployment, while we're up to our necks in recession, we have a king just like our founding fathers faced.
As we've noted, the pizza chef flew coach, his boss at the restaurant paid for his travel he was already making a business trip to Washington, and Obama himself picked up the tab, not the taxpayers.
Posted by Terry K. at 12:30 AM EDT
Updated: Monday, July 13, 2009 12:37 AM EDT