Newsmax Bashes Obama for Auto Plan It Praised Romney For Supporting
Topic: Newsmax
The following package appeared at the top of Newsmax's front page for most of the day Monday: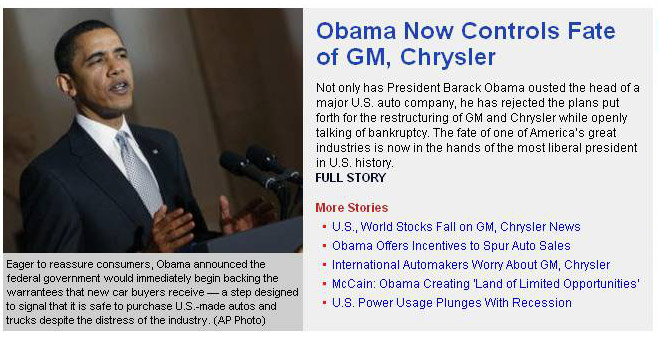 The Associated Press article to which the package linked made no mention of Obama as "the most liberal president in history," and Newsmax does not otherwise indicate why it felt the need to point that out.
Indeed, Obama's purported political affiliations have nothing to do with "openly talking of bankruptcy." After all, last November Newsmax approvingly quoted Republican Mitt Romney -- whom Newsmax touted as having "success revamping corporate finances and is credited with turning around the 2002 Winter Olympics in Salt Lake City" -- saying that "bankruptcy may be the only path to solvency for the Big Three automakers."
Fretting over the ouster of "the head of a major U.S. auto company" is also unexplained, since Romney advocated the same thing, according to Newsmax:
Management as is "must go. New faces should be recruited from unrelated industries — from companies widely respected for excellence in marketing, innovation, creativity and labor relations."
In other words, Newsmax is bashing Obama for what it previously praised Romney for advocating. And we're pretty sure Newsmax doesn't consider Romney to be liberal.
Posted by Terry K. at 12:06 AM EDT