Following the Thread: James Hirsen and Mel Gibson
Topic: Newsmax
Amazing where you end up when you follow a thread.
In a March 24 "Left Coast Report" item, Newsmax's James Hirsen unsurprisingly comes down on the side of supporting the side of right-wing group Citizens United in a Supreme Court case over its Hillary Clinton-trashing movie. But Hirsen obfuscates about the movie and his role in the court case.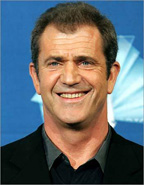 Hirsen writes of the "Hillary: The Movie": "The film in question didn't request that its audience vote for or against a certain candidate. It is simply a feature-length movie that presents information about Clinton's background, experience, and character." Hirsen fails to mention that the "information" is all negative and all comes from longtime critics of Hillary. Hirsen also fails to mention that Citizens United's lawyer in the case is Theodore Olson, or that the movie is dedicated to Olsen's lte wife, Barbara. The film didn't have to "request" viewers to reject Hillary; that's the obvious intention of the film and the only possible conclusion one can draw from it, which Hirsen fails to acknowledge.
Why does Hirsen refuse to acknowledge such a simple fact? Because he's working to pretend it doesn't. As he also noted: "I was involved in filing a brief for this case on behalf of a public interest law organization and am familiar with the legal issues it raises." What "public interest law organization" is that? He won't tell us.
Fortunately, Google can. Hirsen is apaprently referring to an amicus curiae brief he filed in January on behalf of something called the Foundation for Free Expression, "a California non-profit, tax-exempt corporation formed on September 24, 1998 to preserve and defend the constitutional liberties guaranteed to American citizens, through education and other means." And who's the founder of the Foundation for Free Expression? None other than James Hirsen.
What does Hirsen's FFE do? Not much, though it's apparently part of another organization, the World Faith Foundation, which Hirsen also heads. What has it done? Most notably, it owns a 26-acre tract of land in western Pennsylvania purchased for the purpose of permitting Hutton Gibson, father of actor Mel Gibson, to found a branch of an dissident ultraconservative Catholic sect that rejects modern church reforms. Hutton Gibson is on record as a Holocaust denier and holding other anti-Semitic views.
Didn't know about Hirsen's relationship with Gibson? We didn't either. Hirsen has repeatedly failed to disclose it at Newsmax, even when it would have been the journalistically ethical thing to do.
For instance, a July 2006 Newsmax column by Hirsen -- published several months after Hirsen's foundation purchased the land for Gibson's Pennsylvania church -- is an attack on critics who claimed that the younger Gibson's apology for anti-Semitic rantings he made while under arrest for DUI (which Hirsen euphemistically describes only as "untoward statements" and fails to describe in any further detail) was insufficient. He predictably took his remarks in a political direction, whining that "critics on the Left" didn't find Trent Lott's apologies adequate for "regrettable remarks" that "were construed as meaning that the nation would have been better off if a segregationist's presidential campaign had been successful." Hirsen concluded "According to the Left's parameters, Gibson has exceeded that which is expected. According to human standards, he has exceeded that which is sufferable. No further apologies needed."
How did Hirsen determine that Gibson's apology for saying, F*****g Jews... The Jews are responsible for all the wars in the world," was sufficient? He doesn't say. And no, Hirsen doesn't mention his relationship with the Gibson family in launching this defense.
Unsurprisingly, Hirsen enthusiastically pimped Gibson's 2005 film "The Passion of the Christ," which some have suggested includes anti-Semitic elements. Of particular note is a November 2003 column viciously attacking Anti-Defamation League director Abe Foxman for criticizing the film's alleged anti-Semitic elements, claiming he "puked out" his criticism, was acting "like an angry villager in a Boris Karloff movie"and bizarrely claiming that Foxman wanted "not just to snuff out Mel Gibson's film but also to extinguish Easter as Christians know it."
Hirsen has written numerous other articles for Newsmax praising Gibson or attacking Gibson's critics, dating as far back as 2002, without disclosing his relationship with Gibson and his family. (It's unclear when Hirsen's relationship with the Gibson family began; perhaps he can enlighten us.)
All this, by the way, is on top of the usual shoddy journalism we've come to expect from Hirsen.
Posted by Terry K. at 1:02 AM EDT
Updated: Monday, March 30, 2009 1:05 AM EDT