Newsmax Promo Falsely Blames Obama for Market Drop
Topic: Newsmax
A front-page Newsmax promo for a Nov. 6 Associated Press article reads:
Markets Tumble Again With Obama Blues

Uncertain over the direction of a liberal president-elect and reeling from job losses and poor outlooks from leading companies, the market has plunged over the last two days. On Friday, automakers are expected to announce huge losses and more job cuts that will only make the challenge greater for Barack Obama.
But the article itself begins this way:
Wall Street plunged for a second day, triggered by computer gear maker Cisco Systems warning of slumping demand and retailers reporting weak sales for October. Concerns about widespread economic weakness sent the major stock indexes down more than 4 percent Thursday, including the Dow Jones industrial average, which tumbled more than 440 points.
Nowhere does the article blame the market plunge on the "liberal president-elect"; in fact, Obama is not even mentioned until the 28th paragraph.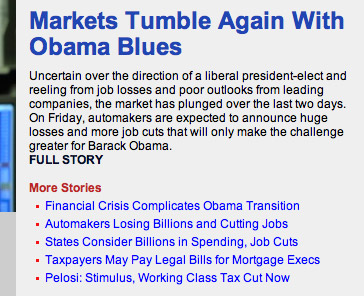 Posted by Terry K. at 9:16 AM EST