WND Thinks A Mischievous Wikipedia Edit That Lasted Only 9 Minutes Is 'News'
Topic: WorldNetDaily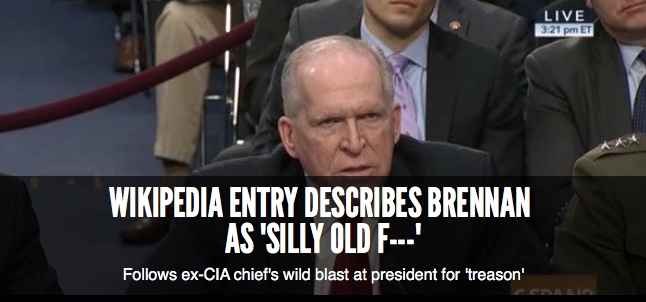 Treating minor political mischief as "news" is among the laziest thing a so-called journalist can do -- which is probably why WorldNetDaily is no stranger to the practice. For instance, WND once devoted an entire story to a picture of Hillary Clinton's book that somebody placed in the science-fiction section of a bookstore.
That sort of politically motivated lameness resurfaces in an anonymously written July 17 WND article:
John Brennan, who shoved himself into the headlines this week with the wild claim that President Trump's actions at his summit with Russian President Vladimir Putin were "treasonous," was described in a new way, briefly, at the online site Wikipedia.

"Silly old fart."

The entry for Brennan, for a few minutes Tuesday, read: "Brennan withdrew his name from consideration for director of the Central Intelligence Agency in the first Obama administration over concerns about his support for transferring terror suspects to countries where they may be tortured while serving under President George W. Bush. Instead Brennan was appointed deputy national security advisor, a position which did not require senate confirmation … is now best known as an irrelevant silly old fart who spends his days in his favourite slippers tweeting furiously about the Trump administration."

The Washington Examiner explained the page was edited only a day after he lashed out against President Trump for comments at the summit.

The edits were live for about nine minutes before the text was changed back to its original.
So the Wsahington Examiner actually did the reporting on this lameness, and WND is merely repeating it secondhand? That's even more lame than we originally thought.
Posted by Terry K. at 1:00 AM EDT