WND Proves Fake News Is Part Of Its 'Path to Greatness'
Topic: WorldNetDaily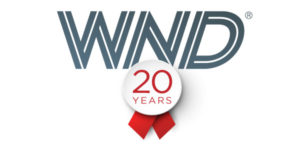 This year marks WorldNetDaily's 20th anniversary, and one of the things it's doing is a daily on-this-day-in-history thing that purports to highlight a "milestone" in WND's "path to greatness." So far, WND's "path to greatness" has included promoting Vince Foster conspiracy theories, repeating never-verified rumors, promoting birther conspiracies, cheering the deaths of Israeli prime ministers they didn't like, and smearing undocumented immigrants as disease-ridden filth.
Now, WND is proudly proclaiming that fake news is a part of its "path to greatness." From a Sept. 6 article:
Sept. 6, 2016: After then-Democratic Party presidential nominee Hillary Clinton suffered the worst coughing fit of her 2016 campaign just two months before the election, a mysterious man seen by her side for many months on the campaign trail suddenly appeared on her plane.

As WND reported, Clinton suffered two coughing fits on Labor Day 2016 – one during a speech in Cleveland, Ohio, and a second one during a press conference on her plane.

In the past, the same man had been spotted helping Clinton up stairs and holding what appeared to be a Diazepam pen. Some observers referred to the man as Hillary's "mysterious handler."

[...]

WND did ask the Hillary Clinton campaign about the identity and role of the man in the photos but never received a response.

At an earlier campaign appearance, the same man was reportedly seen carrying a long object that some claimed resembled a Diazepam pen.
As we documented when WND first published this a year ago, it's a pack of lies; WND perpetuated the story by deliberately ignoring all the established facts that proved it wrong. Later updates further confused things, but the bottom line is that WND published a lie, knew it was a lie when it was published, and tried -- and is continuing to try -- to con its readers into believing that lie.
This fake-news story is what WND considers a "milestone" on its "path to greatness." That's why it doesn't understand why it's on the path to oblivion.
Posted by Terry K. at 12:57 AM EDT