Yes, Joseph Farah, You Are Linked To Violence
Topic: WorldNetDaily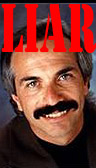 Joseph Farah rants in his Feb. 12 WorldNetDaily column:
You know, in all the years I have been listed among the SPLC's list of "haters," I have never once been linked – even by three degrees of separation – with any act of violence. To the best of my knowledge, no one who has ever befriended me on Facebook or held me up as an inspiration has ever committed a heinous act of terrorism or violence.
Farah, as we've come to expect from him, is lying -- he is linked to violence, and we don't even have to go to three degrees of separation to find it.
As we've documented, the manifesto of Anders Breivik, who slaughered dozens in Norway in 2009, cites WND six times, and it also cites anti-Muslim activists frequently highlighted by WND, including Pamela Geller (now a WND columnist) and Walid Shoebat. Breivik's screeds against Islam, multiculturalism and feminism closely parallel WND's own editorial content over the years.
Needless to say, WND never told its readers at the time about how Breivik expressed his admiration for WND, its friends and its editorial agenda. Don't expect Farah to acknowledge his link to this act of terrorism now.
Posted by Terry K. at 11:05 AM EST
Updated: Sunday, February 15, 2015 11:35 AM EST