MRC Mad At Media For Reporting The Obvious About WH Visit By Red Sox
Topic: Media Research Center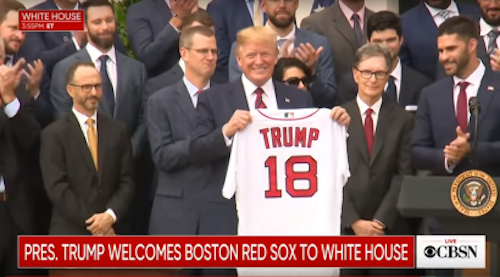 The mysterious Jay Maxson falls into the usual Media Research Center trap of complaining that the media reports facts, in a May 10 post insisting that the obvious truth is just a liberal media "narrative":
President Donald Trump divided the 2018 World Series champion Boston Red Sox along racial lines. That's a recurring narrative of media reports on today's visit by the baseball champs to 1600 Pennsylvania Avenue. Some in the press mocked the visit as mostly made up of the "white sox."
Maxson then recounted news stories that, indeed, proved that was the case -- the Red Sox contigent visiting the White House was effectively all-white, while nearly all non-white players, including manager Alex Cora, declined to attend, at last some of whom cited Trump's divisive statements and policies as the reason.
After the recounting, Maxson then huffed, "Notice any pattern here?" Yes, we do, Jay: There's a pattern of the media reporting what it actually sees instead of following the right-wing narrative of pretending something in plain sight doesn't actually exist.
Maxson seems to know the point he/she is trying to make is rather lame, since so little is done to defend it; the only counter offered is a statement from one of those supposedly biased articleshe cites taht "The Red Sox repeatedly denied that there was any sort of racial divide caused by the White House visit."
Maxson also whined: "Critical media also chastised the Trump White House for a tweet referring to the 'Red Socks' and a reference to the 2018 "World Cup Series Champions." Yes, it's only a "critical media" that would point out such an embarrassing error.
Yet Maxson wasn't done, further whining that USA Today "ridiculed the president for the Red Socks and World Series Cup comments and posted 18 negative tweets about those errors." As if Maxson wouldn't engage in such "ridicule" had a Democratic White House done the same thing.
Posted by Terry K. at 11:17 AM EDT