Did Mercer Money Make MRC Bury Bannon's Catholic-Bashing?
Topic: Media Research Center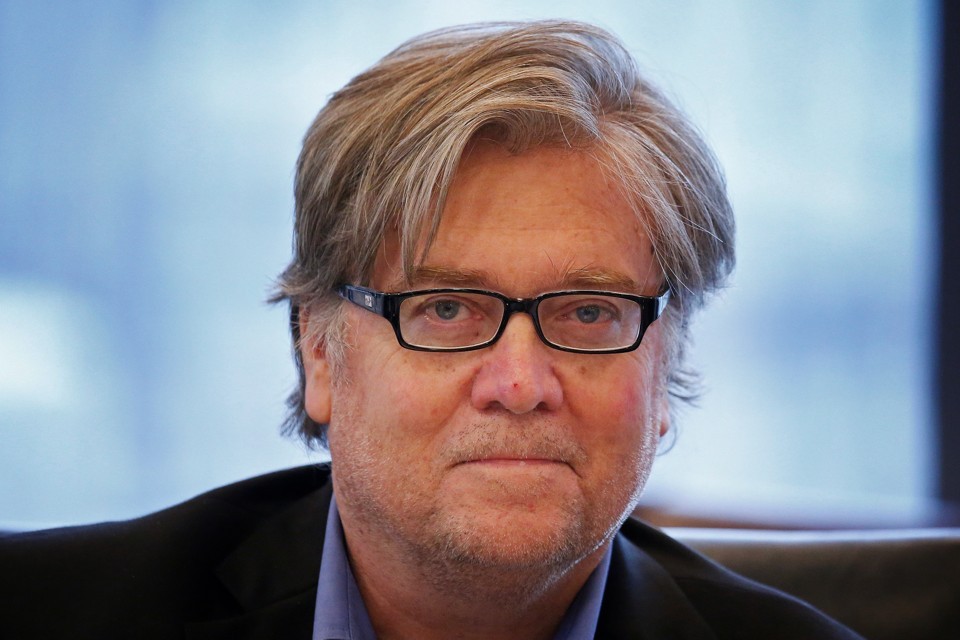 The Media Reserarch Center is usually quick to pounce on any real or perceived slight of Catholics made in the media. After all, the MRC's leaders, Brent Bozell and Tim Graham, are Catholic, and Bozell is a member of the advisory board of Bill Donohue's right-wing Catholic League.
But when that anti-Catholic slight comes from a trusted adviser to a Republican president, the MRC decided to look the other way.
In an excerpt from a "60 Minutes" interview released before its airing, recently departed Trump White House adviser Steve Bannon -- who claims to be a Catholic -- said that the Catholic Church has been "terrible" on the subject of undocumented immigrants, adding: "You know why? Because unable to really to come to grips with the problems in the church, they need illegal aliens, they need illegal aliens to fill the churches. That's -- it's obvious on the face of it. ... They have an economic interest. They have an economic interest in unlimited immigration, unlimited illegal immigration."
Now, that's the kind of anti-Catholic insult that normally gets people like Bozell and Graham in a froth. But the MRC did everything it could to distract from it.
In a Sept. 7 post, Scott Whitlock didn't criticize Bannon's Catholic-bashing -- the remark was noted only in the transcript and written around in the body of the item, in which Whitlock stated only that "Bannon shot back that the 'Catholic Church has been terrible about this' issue" -- but instead attacked Bannon's interviewer, Charlie Rose, for questioning if Bannon was being a "good Catholic" since even influential Cardinal Dolan opposes the Trump administration's stance in trying to end DACA. Whitlock huffed: "Apparently, the CBS position is that a 'good Catholic' supports the liberal agenda and conservative Catholic positions are to be ignored or dismissed." He didn't mention that it could be argued that CBS and Cardinal Dolan are on the same side.
A Sept. 8 post by Kristine Marsh bashed late-night comedians for mocking Bannon, but she would concede only that "Bannon admitted he disagreed with the Catholic Church's stance on DACA" and not offer a direct, full quote of Bannon's remarks. Rather, she actually complained that Stephen Colbert "bashed Bannon for implying the church had ulterior motives for wanting to help 'strangers who desperately need help'" -- the same thing the MRC would be bashing Bannon for if he wasn't a key Trump adviser.
A Sept. 11 post by Nicholas Fondacaro complains that Rose "lectured and berated Bannon about America and his worldview." Fondacaro is careful to edit out Bannon's Catholic-bashing from the transcript, replacing it with ellipses:
ROSE: Can I remind you, a good Catholic, that Cardinal Dolan is opposed to what's happened with DACA. Cardinal Dolan!

BANNON: The Catholic Church has been terrible about this.

ROSE: OK.

BANNON: The bishops have been terrible about this.

(…)

ROSE: Boy, that's a tough thing to say about your church.

(…)

ROSE: You will not be attacking Donald Trump?
Meanwhile, over at the MRC's "news" division CNSNews.com, no stories were published about Bannon's remarks. CNS did, however find the time and space to highlight two other alleged Catholic slights, plus a column by David Limbaugh attacking one of those slights.
The Catholic League's Donohue even wrote an article critical of Bannon -- but neither the MRC nor CNS published it despite both having no problem giving space to Donohue in the past.
Why did the MRC give Bannon a pass? One possible, if not likely, explanation: Mercer money. We've already noted how Mercer family interests are the single largest donor to the MRC; likewise, Bannon is heavily tied to the Mercer empire, which began when Bannon worked for the Mercer-owned data analytics firm Cambridge Analytica and continues through Mercer's part-ownership of the Bannon-headed Breitbart.com.
As with their stance on Donald Trump, Bozell and the MRC have proven they're not afraid to flip-flop and put money ahead of previously declared principles.
Posted by Terry K. at 12:55 AM EDT