MRC Freaks Out Over Health Care Ruling
Topic: Media Research Center
The Supreme Court's ruling that health care reform is, for all practical purposes, constitutional has prompted employees of the Media Research Center to go into freakout mode.
The chief freak is the Dan Gainor, MRC's T. Boone Pickens Fellow and resident right-wing apparatchik, who kicks things off by calling Chief Justice John Roberts a "power mad psychopath":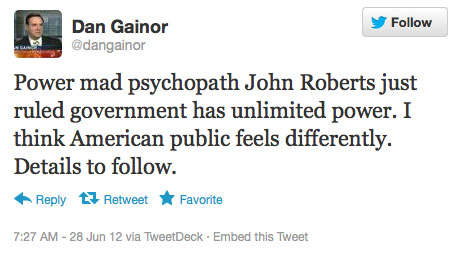 Gainor also called Roberts a "
quisling
"...: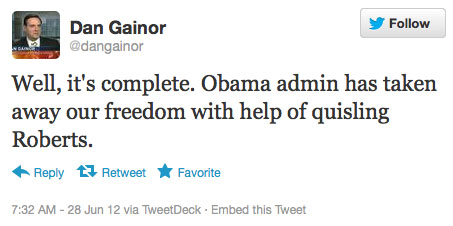 ... as well as a "
lying scumbag
":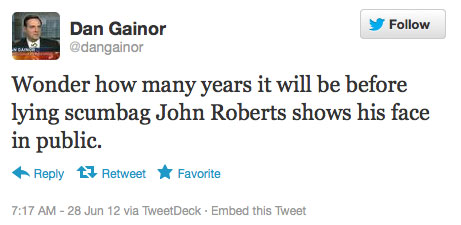 Gainor followed that up by melodramatically
declaring
, "Since I won't ever accept this ruling or pay the tax, looks like jail is in my future."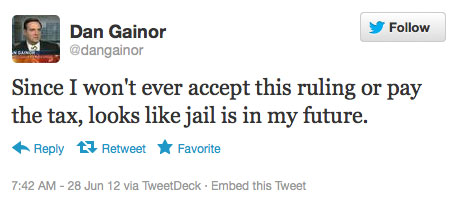 Other MRC employees joined in the collective right-wing gnashing of teeth and rending of garments. Matt Hadro groused, "Anyone else feel sick right now like they did when ObamaCare passed and Obama was elected POTUS?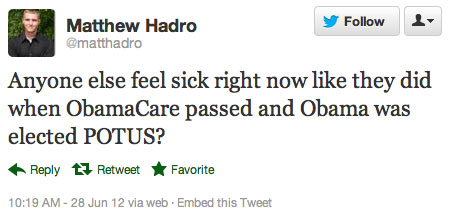 And Matt Philbin
whined
, "Another step in the decent from exceptionalism. Welcome to the 'shining mediocrity on a hill.'"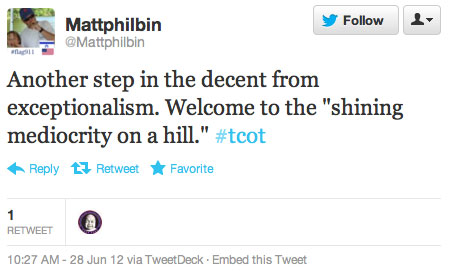 Meanwhile, the employer of all these people, Brent Bozell, put on the hat of his right-wing activism group, For America -- or so the Daily Caller
portrays it
-- to rant that Roberts is "a traitor to his philosophy," adding that this demonstrates that conservatives "need a good three man margin on the court. They can't be satisfied with a majority, because you just can't trust them."
Posted by Terry K. at 12:19 PM EDT